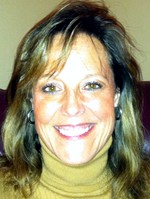 My name is Wendy Machi and I am the "Wendy" from Team Wendy. Although I am the namesake of the team, our fundraising efforts put forth by the team will hopefully benefit ALL of the individuals affected by this monster of a disease!
I was diagnosed with Multiple Sclerosis on January 11, 1983. I was 19 years old. My parents and I did not know anything at all about MS so it was an extremely overwhelming time for all of us. The MRI was not around so the sheer diagnosis was very difficult. Not only were we naïve about the disease, but the treatments were non-existent. Fortunately that was then and this is now. The therapies and treatments have come a long way since 1983. I have tried and been on approximately 90% of the therapies. My feeling is that I should try it all as long as it doesn't hurt me. Some have been hard on me as far as side-effects and we've chosen to stop using that particular therapy and try another one. Currently I am taking a medication that just recently became FDA approved. Prior to taking it, the medication was a sub-Q, inject able medication. I had been taking daily shots of this medication called Copaxone for 13+ years. Once FDA approved as an oral pill, it was renamed Gillenya. I'd much rather take a pill than do a shot any day!! This medicine is supposed to cut down on the # of attacks you have and make the ones you do have, less severe.
I have the type of MS known as relapsing- remitting. The name pretty much speaks for itself. I have relapses and then go into a type of remission. However, each time you have an exacerbation or an attack, it takes a little bit away from you as far as your ability to do certain things. Since 1983 I've had several attacks, thus taking a part of who I am, away. That is a hard pill to swallow. I am a very different person physically, than I was in 1983. That being said, there are many things that I cannot do anymore. However, I feel that I am one of the lucky people with Multiple Sclerosis. I'm still able to walk through doors, not roll through them in a wheelchair.
I am also very lucky in that I have a very supportive family. I have been married to my best friend Nino, for 22 years and I have three wonderful children Matt, Lizzie and Katie. All of them have been on this journey with me and they are extremely helpful. I could not do a lot of things that I do without their help.
My extended family and friends have also been very supportive. I became the namesake for our Team Wendy bike team 11 years ago. I have ridden in the MS 150 Bike ride for the past 9 years. Our team has been the third highest fundraising team in the state of Wisconsin for many years. We are always open to anyone joining our bike team and helping raise money and awareness for multiple sclerosis.
Thank you for reading about who I am. I'd love to meet you and have you be part of our team and go on this journey with me. I look forward to the day when we live in a world free from Multiple Sclerosis.
Until There is a Cure, We Must Have Hope!
Be patient when playing the video, the first 20 seconds are blank.
Footage Courtesy of WITI News, Fox Television Stations, Inc, All rights reserved